Wed., June 6, 2012, 12:12 p.m.
Noon: Golfer Mickelson Goes Ballistic
You can't make this stuff up. PGA pro Phil Mickelson withdrew from the Memorial Tournament in Ohio over the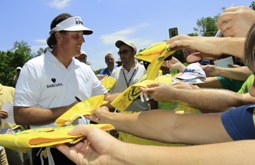 weekend, citing "mental fatigue". Really, what pushed him over the edge were cell phones. Mickelson said, and according to ESPN, Bubba Watson and Rickie Fowler backed him up, that cell phones were the issue. Rather, there were too many fans taking pictures of him with their mobile devices, causing too much of a distraction. Okay. Here is the ironic part of the story. Mickelson reportedly texted the PGA commissioner about the problem. From his cell phone. While on the golf course/Jared Frank, KHQ/SWXRightNow.com. More here. (AP photo)
Question (from friends at KHQ/SWX): Cell phones on golf courses: yea or nay?
---
---