Wed., June 6, 2012, 3:52 p.m.
Sandpoint Third-Graders Pen Book
The third grade classes at Farmin Stidwell Elementary School have announced publication of their book "A Third Grade Guide to Sandpoint." According to a news release: "This fun, fact filled book offers a narrative of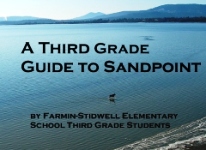 the history, activities, people, and places of the Sandpoint through the clear-eyed perspective of third graders from Farmin-Stidwell Elementary School in Sandpoint. Readers will learn why these students believe Sandpoint is an amazing place to live. Each of the 60 third-grade students chose an aspect of Sandpoint to write about. They researched, wrote, and illustrated with drawings and photographs, stories about everything from local parks to restaurants, wildlife, events like the Festival at Sandpoint, and the Long Bridge Swim and even some of our senior housing options." A publication celebration is scheduled at 8:30 p.m. Tuesday at the elementary, located at 1626 Spruce St. in Sandpoint. The book of over 100 pages is available for $7.95 through CreateSpace.com here and Amazon.com
Question: Were you a good writer as a third-grader?
---
---