Fri., June 8, 2012, 11:04 a.m.
Hydroplane Racing Returns To CdA
The roar of hydroplanes will be heard again on Lake Coeur d'Alene this summer with a return to racing 44 years after the popular sport there ended. Hydro races are planned southeast of downtown as part of the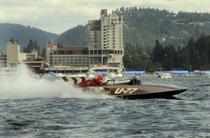 Diamond Cup Regatta during Labor Day weekend, organizers announced this morning. This year's event will feature sanctioned grand prix competitions, with an unlimited class exhibition race and plans for a sanctioned unlimited class race in 2013. This year's event, including spectator seating, will be just outside city limits, near Silver Beach. Recalling drunken riots after races in the early 1960s, city voters twice have said they no longer want hydroplane racing in Coeur d'Alene. The new course for the boats, which reach speeds of 200 mph, will extend south from the Silver Beach area. Spectators will be able to line up along Coeur d'Alene Lake Drive and the Centennial Trail, outside the city's jurisdiction. Kootenai County Sheriff Rocky Watson this week signed a permit approving the event/Spokesman-Review. More here.
(Bart Rayniak SR file photo)
DFO: The location along Silver Beach might be a far better one than the previous one downtown.
Question: Would the return of hydroplane racing fare better with Coeur d'Alene voters today than it did in fall 1985 when three-quarters of the town opposed them?
---
---