FRIDAY, JUNE 8, 2012, 5:13 P.M.
Mag: Sandpoint Is 'Where To Retire'
Bonner County is already well-known among folks around the country as a prime spot to rest after a hard life's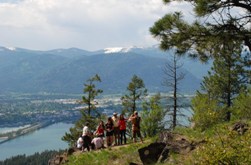 work. Now that reputation has spread even further. "Where To Retire," a nationwide magazine that assists individuals in selecting a retirement location, will feature Sandpoint in its upcoming June 19 issue. In a feature entitled "Laid-back Lakeside Living," the magazine staff list out the many qualities that make Sandpoint a popular destination for retirees seeking an exciting location to spend their twilight years. In addition to Sandpoint, the magazine also examines seven other towns known for their great lakeside locations — Traverse City, Mich., Lake of the Ozarks, Mo., Murray, Ky., Gainesville, Ga., Granbury, Texas, Lake Tahoe, Calif. and Nev. and Lake Havasu City, Ariz./Cameron Rasmusson, Bonner County Bee. More here. (Rich Landers SR photo of hikers on Gold Hill overlooking Sandpoint)
Question (for those considering it): Do you plan to retire in a North Idaho town?
---
---