Fri., June 8, 2012, 12:05 p.m.
Total Recall: Copier Blues
The following is a work of fiction. Any resemblance to real people or actual events is purely coincidental.
Frank and Bill arrived at city hall this morning. Each had a black brief case handcuffed to their left wrist. Susan,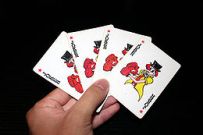 the city clerk, greeted them with smiles. "Well, good morning gentleman. Are you ready to look at our copy machine? Bill spoke first. "Yes. My glasses have an optical camera on the frame. We're broadcasting back to our recall offices right now. So don't try any funny business. Everybody is watching." Susan slightly startled showed them back to the copier area, "Here it is. Some of the gals call her, Bessy. She's only two years old." Frank moved forward and examined the outside of the machine, "Wow. A Canon Color MF9000. That's a pretty good model." Bill disagreed. "The factory had some issues with toner carriers. They can slip if the machine hasn't been maintained properly." More here.
Thoughts?
---
---