Mon., June 11, 2012, 1:18 p.m.
Idaho Joins Kramer HOF Effort
Members of the Pro Football Hall of Fame in Canton, Ohio are among the most elite, recognizable and honored athletes of their time. They have been rewarded for their skill and dedication to the game, but the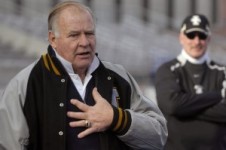 roster of Hall of Fame legends remains incomplete — one great player from the glory days of the Green Bay Packers is missing. That oversight has football fans and an entire state rallying around the cause of Packer legend and Sandpoint and University of Idaho alumnus, number 64, Jerry Kramer. Kramer is the only member of the NFL's 50th Anniversary All-Time team not in the Hall of Fame, but even more impressively those who played with and against him agree that Kramer belongs in Canton. The University of Idaho in conjunction with Gallatin Public Affairs, is asking all football fans to put the old rivalries aside and join together in support of Kramer's nomination to the Pro-Football Hall of Fame/Associated Press. More here. (Charlie Litchfield Idaho Press Tribune photo)
Question: Do you think this crusade will succeed in getting former Sandpoint/UI Vandal star Jerry Kramer into the NFL Hall of Fame?
---
---