Tue., June 12, 2012, 8:29 a.m.
Adults Getting Teeth Straightened
James Hill, pictured, a cyclotron engineer in Spokane, was driving his car and "chomping on nuts" when his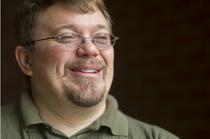 tooth fell apart in his mouth. He pulled over. A fast call to his dentist's office secured an emergency appointment, where he learned a wisdom tooth that emerged when Hill was 37 had put so much pressure on another tooth that the tooth died and decayed. A hard nut was the last straw, and the tooth shattered. OK, Hill said, long frustrated with overcrowding. It's time to get the teeth fixed. Now 41, he sports a full set of metal brackets that are uncrowding his teeth and moving them into alignment, including his protruding canines – as a kid, he said, people called him the "dude with the fangs." Hill is not alone as an adult with braces/Adrian Rodgers, SR. More here.
Question: Have you had your teeth straightened as an adult?
---
---