Wed., June 13, 2012, 11:47 a.m.
Crapo: Father, Take Care Of Yourself
In a column for Father's Day, U.S. Sen. Mike Crapo, R-Idaho, urges men to take better care of their health: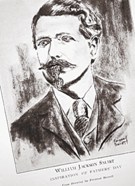 "Fathers take care of us, and one Father's Day idea is to encourage them to also take care of themselves. Men often pay too little attention to their health until a serious problem emerges. According to the Men's Health Network, men have a higher death rate for most of the leading causes of death, including heart disease and cancer. Additionally, the life expectancy of men is approximately five years lower than the life expectancy for women. Maintaining healthy lifestyles and preventive efforts are fundamental to changing these statistics. Men's health concerns affect far more than men alone. They affect families and loved ones." More here. (SR file photo: William Jackson Smart, father of Sonora Smart Dodds, the founder of Father's Day)
Question (for fathers): Do you get an annual physical & otherwise take care of yourself for your family's sake?
---
---