Thu., June 14, 2012, 12:29 p.m.
New Yorker Focuses On Bryan Fischer
Controversial Bryan Fischer, pictured in 2007 AP file photo, who has taken his conservative bully pulpit national from Idaho, is featured in a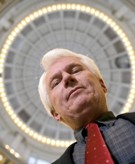 not-flattering New Yorker article by Jane Mayer, "Bully Pulpit: An evangelist talk-show host's campaign to control the Republican Party." It begins with Fischer's successful campaign to oust gay Richard Grenell from his short-lived role as the national-security advisor for GOPresidential nominee Mitt Romney. Writes Mayer: "The resulting controversy helped make gay rights one of the defining social issues of the 2012 campaign." NPR also focused a story on Fischer in a piece called: "Radio's Bryan Fischer tries pushing Romney right." Fischer is also the target of a blog post by Josh Glasstetter's RightWingWatch: "Bryan Fischer in the New Yorker: "Extreme, Rigid and product of a broken home." All of which indicates that Fischer is making a transition from the Gem State to a growing fish in national conservative circles.
Thoughts?
---
---