Thu., June 14, 2012, 1:15 p.m.
They Became The Le Claire Bunch
He was a single dad raising seven children. She was a single mom with five kids. In 1966, Mel and Darlene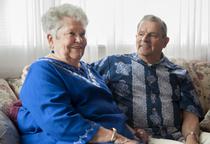 Le Claire met when she moved into a house behind him in south Spokane. "Our kids played together," Darlene recalled. His oldest was 13 and the youngest just 5. Her kids ranged in age from 14 to 7. The kids ran back and forth between the two houses, but the adults didn't meet until Darlene saw Mel walking past her house. He was so handsome, she said, "I thought he was worth meeting"/Cindy Hval, SR Love Story. More here. (Colin Mulvany SR story)
Question: Thirteen kids! Do you come from a large family?
---
---