Fri., June 15, 2012, 8:14 a.m.
Edit: Raul Hurting 2014 Guv Chances
There's no shortage of people who think Congressman Raul Labrador is running for governor in 2014. But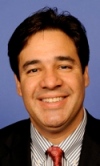 that can't be the case. No politician in his right mind would do what Labrador did last week if he intended to ask eastern Idahoans for their support in two years. Labrador inexplicably supported a draconian cut in the nuclear energy budget. The amendment failed, but had Labrador got his wish, the result would have been catastrophic locally, statewide and for the nation. INL gets about 60 percent of the budget Labrador voted to eviscerate. Cutting it by two-thirds could have led to thousands of lost INL jobs. That's a death sentence. Imagine eastern Idaho without its economic driver. Those who sell food, insurance, homes and, yes, newspapers, would rather not. Perhaps Labrador feels insulated living so far from eastern Idaho. He shouldn't. The lab is responsible for about 25,000 direct and indirect jobs in Idaho/Idaho Falls Post Register. More here.
Question: Do you think Congressman Raul Labrador will run for governor in 2014?
---
---