Fri., June 15, 2012, 10:37 a.m.
Total Recall: Sweat Shop City
The Joker offers the latest version of "Total Recall" (The following scenario is a work of fiction. Any resemblance to real people or actual events is purely coincidental): The county clerk's office was busier than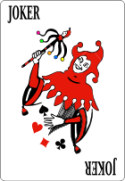 usual and the air conditioning wasn't working. Nancy stared at her computer screen intently. The glare of the screen was beginning to hurt her eyes. It was day four of verifying signatures. The work was tedious and boring. She looked up at the giant digital clock, which was counting down. Over 80 hours left until 4:30 p.m. June 19th. She wondered how in the world they were going to make it. The recall signature lists were a mess. Looking at poorly written signatures for days on end seemingly caused her vision to deteriorate. Cliff entered the room and began passing out bottles of water. "Keep the good work people. I know it's hard, but you're doing a great job. Keep it going." Nancy smiled and took a few minutes to savor the water. It was cold and crisp. The clerk's office door swung open and Nancy's smiled disappeared. It was Mary and her entourage. More here.
Thoughts?
---
---