Mon., June 18, 2012, 8:35 a.m.
Boomers Change Work Demographics
Connie and Scott Brunell were living the early-retirement dream shared by many baby boomers once upon a time. They left telephone company jobs in the Seattle area to work for an oil company in Saudi Arabia. They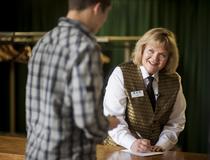 stayed 12 years, making and saving good money. Connie (shown in Colin Mulvany SR photo) retired in 1996 at 45. Scott retired a year later at 51. They kept busy. They remodeled their home outside Spangle. Connie spent time showing dogs, her hobby and passion. The couple traveled and volunteered. In 2009, after two snowy winters, both felt trapped at home. So they returned to work. Scott, 66, works for the Spokane Parks and Recreation Department. Connie, 61, works for Staff Pro, the company that provides event employees for the Spokane Public Facilities District. The Brunells, who work part time, are part of an aging baby boomer labor trend predicted to accelerate in the near future as boomers stay in the workforce past retirement age. This trend could help rev the economy and ease worries about Social Security solvency/Rebecca Nappi, SR. More here.
Question: Do you plan to work beyond retirement age?
---
---