Mon., June 18, 2012, 3:16 p.m.
Trib: Craig Still Stonewalling
Five years ago last Monday, then-U.S. Sen. Larry Craig, R-Idaho, walked into the men's room at the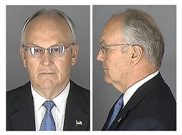 Minneapolis airport and got into trouble. An undercover airport cop said Craig propositioned him for gay sex. Craig pleaded guilty to disturbing the peace. And we've been talking about it ever since. Why? Ask Craig. It's Craig who has refused to come clean about misleading Idahoans about his "intent to resign from the Senate," only to take it back and serve out the remaining 16 months of his term. Never once has Craig subjected himself to an even modestly objective interviewer to answer why he misled his constituents - even though he now insists on playing the role of elder statesman wherever the opportunity presents itself/Marty Trillhaase, Lewiston Tribune. More to come.
Question: What would you advice Larry Craig to do if he had a do-over after getting caught in the Minneapolis, Minn., airport bathroom -- to minimize fallout?
---
---