Tue., June 19, 2012, 3:48 p.m.
Edit: 2-Headed Fish Funny, But …
Call it life imitating animation. The J.R. Simplot Co.'s infamous two-headed trout channels "Blinky," the imaginary three-eyed fish that lived near the nuclear power plant on "The Simpsons." Inevitably, the real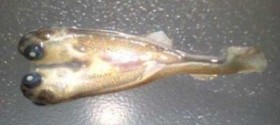 wo-headed trout captured the attention of a not-exactly-real news program, Comedy Central's "The Daily Show," which ran a segment on the mutated fingerling last week. Sure, if you can't dream up a one-liner about a two-headed fish, you're not trying hard enough. But the underlying issue is serious stuff: water quality in Idaho's mining country, and the role a powerful Idaho industrial leader should take in protecting the environment. Simplot is petitioning the state for relaxed water quality standards below its Smoky Canyon Mine, an open-pit operation near the Wyoming border that yields more than 2 million tons of phosphate ore each year. The state's Department of Environmental Quality will have to decide whether to allow higher levels of selenium in creeks below the plant/Kevin Richert, Idaho Statesman. More here.
Question: How important is water quality in Idaho to you?
---
---