Tue., June 19, 2012, 9:21 a.m.
Stolen Post Falls Camaro Found
David King figured his two 1967 Chevy Camaro Rally Sport show cars were history. The Post Falls man thought they had been parted out. His insurance company was preparing to pay King for the stolen cars as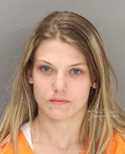 nearly a month had passed since the theft. Then a car collector in Garden City in the Boise area called King on Friday night to say he had looked at his black Camaro for sale at a storage facility in that town. "The seller was asking $27,500, but the potential buyer knew something was up because the car is worth at least twice that much," King said. The potential buyer, Don Copple, said he would think about the purchase and, sure enough, later saw photos on the Internet that the vehicle had been reported as stolen by King. King said police asked Don to meet the seller, Anthony Bauer, 48, Post Falls, again at the storage facility to discuss the car on Saturday/Brian Walker, Coeur d'Alene Press. More here. (Police mug shot via Idaho Statesman of suspected accomplice Sarah M. Cornett, 19, of Post Falls)
Question: Have you ever had your car stolen?
---
---