Wed., June 20, 2012, 8:22 a.m.
Kerri: Burnett Was A Newspaperman
Tom Burnett was a newspaperman. There are many people who earn a living in the newspaper business in a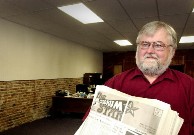 variety of capacities, but in my decades-long experience there's only a handful I'd describe as a newspaperman, the kind of person who bleeds ink and considers the 4th Estate a noble calling. If you don't get a little misty-eyed when the printing presses are rolling and another edition is put to bed, forget it. I never worked with Tom in my career but our paths crossed many times. He had a passion for the role of a weekly newspaper and at one time owned the Post Falls Tribune, selling it a few years before I became publisher/editor/Kerri Thoreson, Coeur d'Alene Press Main Street. More here. (Jesse Tinsley SR file photo)
Question: Do you have any family ties to newspapering?
---
---