Mary Souza, thrice denied by Coeur d'Alene voters (loss to Mike Kennedy in 2005, Brannon's loss to Kennedy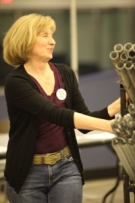 at polls and court 2009, and now RecallCDA loss), has emerged to denounce Secretary of State Ben Ysursa for recall failure. Seems Mary (shown in Phantom Photographer photo setting up for a Tea Party event at Greyhound Park) thinks Ysursa affected recall effort by shortening petition process & by declaring "that any person signing the Recall petition must have their petition city address match their Voter Registration city address exactly." Seems Mary thinks that Ysursa's "second pivotal interpretation" cost Recallers 200 signatures. You can read her 10:01 post under today's editorial by Coeur d'Alene Press at Press Online here. You'll notice that Meesterbox & Timeless are engaged in thread, trying to match facts with fiction provided by Mary & her entourage (MisterD, LTRLTR, DeNiles, etc.) Don't be afraid to join the online party.
Talking points to counter Mary & Co. at Press Online: Ysursa has forgotten more about election law than they'll ever know; hundreds of signatures were accepted before voter registration cards were turned in; signature gatherer Rod Bitterman's petitions were accepted and counted; and get over it.
Thoughts?
---
---