Wed., June 20, 2012, 3:36 p.m.
Oil Firms Pull Megaload Applications
Imperial Oil/ExxonMobil has withdrawn its application to the state of Montana to haul more than 200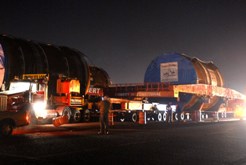 megaloads of oil sands equipment over Lolo Pass and through northwestern Montana into Canada. The company said it's already brought in all the loads it needs for the first phase of its oil sands project via other routes, the Associated Press reports. Imperial spokesman Pius Rolheiser told the AP that the company has contracted for the demolition of a huge test module that has been sitting in a parking lot at Lolo Hot Springs since May 4, 2011. The load will be removed in chunks that won't require oversized permits/Betsy Russell, Eye On Boise. More here. (Lewiston Tribune file photo)
Question: Are you happy to see the megaloads go away?
---
---