Mon., June 25, 2012, 8:27 a.m.
GOP Picks Peterson As Idaho Chair
Idaho Republicans on Saturday elected a Mountain Home hardware store owner to lead the state's dominant party ahead of November's big ballot fight over education reforms. Barry Peterson, pictured, was chosen chairman over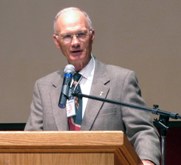 charter school activist Gayann DeMordaunt from Eagle. Peterson replaces outgoing chairman Norm Semanko. The 64-year-old Peterson was described by backers as an example of rural Idaho's conservative roots. His grandfather settled Elmore County in 1885. Peterson said among his first tasks will be choosing a new executive director to run the Idaho GOP's day-to-day affairs. Like Semanko, current executive director Jonathan Parker is leaving the office for employment elsewhere. ... Apart from staffing the office, Peterson's main political task will be raising money and helping organize the state GOP's opposition to attempts to repeal the 2011 Legislature's education reforms on Nov. 6/AP, Eye On Boise. More here.
Question: Will Peterson's tenure as Idaho GOP chairman be as contentious as Norm Semanko's?
---
---