Mon., June 25, 2012, 9:11 a.m.
Otter Backs Flip-Flop On Five Wives
As the brouhaha dies down over Idaho's initial rejection, then change of heart on allowing Five Wives vodka to be sold in the state – despite concerns that the name could be offensive to the state's Mormon population –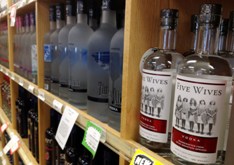 Gov. Butch Otter says his state liquor division chief did the right thing. "They did the right thing in saying, 'If people want to special order it, we'll do that,' " Otter said. Last month, Idaho banned the sale of the Utah-made vodka in Idaho state liquor stores and barred it from special-order sales as well. The provocatively named liquor's label features a picture of five women tucking up their skirts from an old-fashioned, racy vaudeville act. "Jeff Anderson let me know that there was some controversy," Otter said of his state liquor chief. "They run the department. They're the ones that know what they've got the shelf space for, what items move, what don't"/Betsy Russell, Eye On Boise. More here. (AP file photo)
Question: Has anyone purchased Five Wives vodka since the controversy receded?
---
---