TUESDAY, JUNE 26, 2012, 9:25 A.M.
Court Ruling On Obamacare Thursday
When the US Supreme Court offers its ruling on President Obama's health-care reform law Thursday, only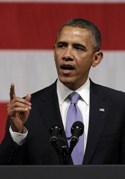 one thing is certain: At least half of Capitol Hill is going to be ticked off. If the law stands, Republicans will fume. If the law is curtailed or struck down, Democrats will seethe. But what next? Republicans have vowed that, rain or shine, they'll keep their focus on jobs and the economy – and incorporate whatever happens at the Supreme Court into that larger message. Democrats, on the other hand, have not even countenanced the fact that the law might fail. At least in public, they're lining up with House minority leader Nancy Pelosi's claim that the legislation is "ironclad" from constitutional challenge/David Grant, Christian Science Monitor. More here. (AP file photo)
Question: Any predictions re: how the Supreme Court will rule on Obamacare?
---
---