Tue., June 26, 2012, 8:16 a.m.
Ironman Brings Drama At Midnight
With the clock clicking down on Sunday night, two runners were still a few miles from the finish line of Ironman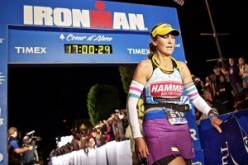 Coeur d'Alene. One was Jordan Khani, an 18-year-old high school graduate from Ladue, Mo., not far from St. Louis. The other was Cathy Stephens, a 43-year-old administrator from Spokane. Both had already battled through a long day that started at 7 a.m. on the shore of Lake Coeur d'Alene. Each completed a 2.4-mile swim in cold, choppy water. Each finished a 112-mile bike ride over a course with more than 5,000 feet of climbs. Each was weary as they began their next challenge, 26.2 miles. It would be their last to complete their quest to officially be declared an Ironman. But time was running out/Bill Buley, Coeur d'Alene Press. More here. (Jerome A. Pollos/Coeur d'Alene Press photo)
Question: Have you ever narrowly missed accomplishing a goal?
---
---