Wed., June 27, 2012, 9:35 a.m.
Joker: Thou Shalt Not Plan, Permit
Jesus gathered his disciples around his father's workshop and picked up a fresh cut board, smelling the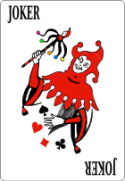 richness of the wood. "Today, I want to talk to you about a troublesome scourge that each one of you will face one day. As we build our homes, there will be those who will try and pull the nails from each plank. They will not use their arms or beast to destroy what you have created. No, they will use the devil's tool box and you should know how to spot this evil." The disciples gathered closely around Jesus. They were concerned. They gave worried looks and began to whisper amongst themselves. "Be not afraid. The devil will attempt to lure you into what's called the permitting process. He will make you sign papers and make you pay fees to build. The entry into the Lord's home is not through permits. You will also hear about zoning and comprehensive plans." The audible gasp filled the workshop. More here.
Question: Do you think planning, zoning & comp plans are the spawn of the debbil?


---
---