Wed., June 27, 2012, 8:18 a.m.
Orzell Wants Rejects To Fix Vote Info
Recall organizer Frank Orzell, pictured, isn't done after all. Relax: He's just asking the newspaper to perform a public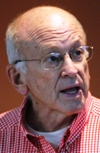 service. Orzell compiled a list from Kootenai County Elections Department data of nearly 370 people who signed recall petitions against four city incumbents, but whose signatures were thrown out because of various registration issues. The list doesn't include any signers who were rejected because they were not qualified Coeur d'Alene voters, which was a requirement of the recall petition drive. It essentially identifies voters whose registration information on the petition form isn't consistent with the information on the voter information system (ISVRS) maintained by the Secretary of State. "They show up on the reject list," Orzell said. "That's it"/Tom Hasslinger, Coeur d'Alene Press. More here.
Question: And you thought Orzell's 15 minutes of local fame were over?
---
---