Wed., June 27, 2012, 9:08 a.m.
Raul Wants Idaho To Manage Forest
Idaho Republican Rep. Raul Labrador is looking past the November election with a bill that would give states opportunities to show they do a better job managing national forest lands. Labrador knows his bill, which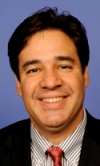 would establish pilot projects to turn over about 1 percent of Idaho's 20 million acres of national forests to the state to manage, is not going to fly now. Not with a Democratic Senate — which has blocked similar plans in the past — and with a Democrat in the White House. But Labrador is laying the groundwork with the Self-Sufficient Community Lands Act for a time when the GOP controls the Senate. Campaigning in Idaho in February, GOP presidential candidate Mitt Romney expressed support for state management of federal lands. Romney's proposal, which he said came after talking to Idaho Gov. Butch Otter, was offered as an alternative to Rick Santorum's call to transfer ownership/Rocky Barker, Idaho Statesman. More here.
Question: Do you think Idaho can manage federal land in the state better than the federal government?
---
---