Thu., June 28, 2012, 1:37 p.m.
Furrer: Olympic Size Dream In Sight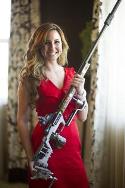 For Amanda Furrer the dream started small. "I just wanted to win a medal," she said. And she did. In 2007, she won a bronze medal at the Pan American Games. But that win only whetted her appetite for more and her dreams are now Olympic-size.Furrer, 21, is a member of the U.S. Shooting Team and will compete in the Olympics in London in August. ... Furrer may have missed some social functions in high school, but she didn't sacrifice her femininity. The self-described girly-girl said, "I love wearing glitter, high heels and make-up and I love shopping"/Cindy Hval, SR. More here. (Colin Mulvany SR photo)
Question: For female readers: Are you a girly-girl or a tomboy? For male readers: Which type of woman are you attracted to?
---
---