Thu., June 28, 2012, 3:16 p.m.
Johnson: Chief Roberts Makes History
There will be days and days of analysis – some of it even important – of today's historic Supreme Court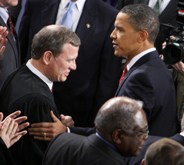 decision on the Affordable Care Act, or as those who hate the law say – Obamacare. We'll hear every possible interpretation and then some. Here is my initial take on one sliver of the story; the fact that Chief Justice John Roberts authored the majority opinion upholding the law, went against four other conservatives on the Court with whom he often finds compatibility and maybe – just maybe – wrote himself firmly into the history books. I think most Court watchers would say that a Chief Justice – any Chief Justice – always wants to be in the majority. Roberts worked hard to get there even while taking pains to throw a rhetorical political bone to those who will see him as an updated version of former Justice David Souter, an appointee of the first George Bush who served to infuriate many conservatives/Marc Johnson, The Johnson Report. More here. (AP photo of Chief Justice John Roberts with President Barack Obama during 2010 State of the Union speech)
Question: Do you think Roberts made the right kind of history?
---
---