Thu., June 28, 2012, 8:16 a.m.
Stabbing Suspect Had Long Rap Sheet
Police today arrested a convicted killer accused of trying to kill another man in a stabbing Monday night north of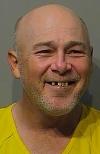 Coeur d'Alene. James H. Kountz, 56, was arrested about 5:40 p.m. in the same wooded area near U.S. Highway 95 and Wilbur Avenue where he stabbed another transient, James R. Hoglen, 42, on Monday. Kountz has a long criminal history that includes an involuntary manslaughter conviction in California. He was originally arrested for murder in 1989, said Sgt. Christie Wood, spokeswoman for the Coeur d'Alene Police Department. Kountz has amassed arrests from traveling all over the United States, Wood said. He's been in the Coeur d'Alene area for about a year. Wood said police have arrested him three times for aggravated battery and contacted him several other times for trespassing/Meghann Cuniff, Sirens & Gavels. More here.
Question: Is it time to clean out the transient camp in the woods behind Target?
---
---