Thu., June 28, 2012, 8:40 a.m.
Supreme Court Upholds Obamacare
The Supreme Court today upheld the vast majority of President Barack Obama's historic health care overhaul, including the hotly debated core requirement that virtually all Americans have health insurance. The 5-4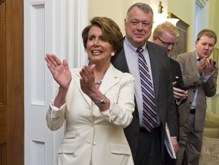 decision means the huge overhaul, still taking effect, will proceed and pick up momentum over the next several years, affecting the way that countless Americans receive and pay for their personal medical care. The ruling hands Obama a campaign-season victory in rejecting arguments that Congress went too far in approving the plan. However, Republicans quickly indicated they will try to use the decision to rally their supporters against what they call "Obamacare." Stocks of hospital companies rose sharply, and insurance companies fell immediately after the decision was announced that Americans must carry health insurance or pay a penalty/Associated Press. More here. (AP photo: House Minority Leader Nancy Pelosi of Calif. relays the breaking news to her staff that the Supreme Court had just upheld the Affordable Care Act this morning)\
Question: Surprised?
---
---