Fri., June 29, 2012, 3:10 p.m.
Obamacare: Idaho In State Of Denial
Idaho politicos have spent two years viewing President Barack Obama's health care law with scornful suspicion. That is, when they haven't covered their eyes and tried to wish the law away. State lawmakers spent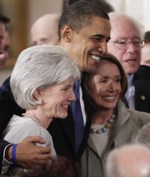 the 2011 session indulging in constitutional conceit, convincing themselves that states possessed the power to "nullify" any federal law that they don't like. In 2012, these same lawmakers ducked the idea of creating a state-run health insurance exchange — an online marketplace to enable individuals and small businesses to shop for insurance, and a component of the federal health care law. They explained away the dodge by saying they wanted to see how the Supreme Court would rule on health care. Clearly, many lawmakers fully expected the court to toss the law aside. We all know how that worked out/Kevin Richert, Idaho Statesman (editorial for Sunday). More here. (2010 AP file photo: President Obama embraces Health and Human Services Secretary Kathleen Sebelius, left, and House Speaker Nancy Pelosi after he signed the health care bill)
Question: Have Idaho lawmakers acted responsibly in preparing for Supreme Court ruling on Obamacare?
---
---