Thu., March 1, 2012, 8:57 a.m.
Blogger Andrew Breitbart, 43, RIP
Andrew Breitbart, the conservative blogger whose posting of a sexually explicit photo of former U.S. Rep.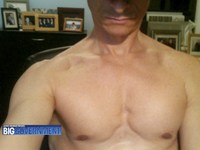 Anthony Weiner led to the congressman's downfall, has died, his attorney confirmed Thursday. He was 43. Joel Pollak, editor-in-chief and in-house counsel for Breitbart's website, Breitbart.com, posted a statement confirming his death. "Andrew passed away unexpectedly from natural causes shortly after midnight this morning in Los Angeles," the statement read. "We have lost a husband, a father, a son, a brother, a dear friend, a patriot and a happy warrior"/CNN. More here. (AP/BigGovernment.com file photo posted by Andrew Breitbart that purported to show Rep. Anthony Weiner, D-N.Y., shirtless)
Thoughts?
---
---