THURSDAY, MARCH 1, 2012, 5:16 P.M.
Jones' Death Hikes Heart Attack Alert
Yesterday, news of Davy Jones' death lit up Facebook, Twitter and online news sites with frantic reports. Baby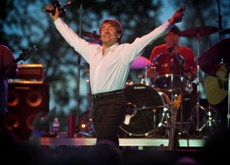 Boomers shared nostalgic remembrances of their childhood worship of the Monkees and circulated YouTube clips of Jones' songs. Less talked about was how he died: a massive heart attack, according to today's autopsy results. If you're in your 40s, 50s, or 60s, the news of how Jones died might also have given you pause. A heart attack at 66? How likely is that? Could it happen to me?/Melanie Haiken, Forbes. More here. (2001 AP file photo of Davy Jones)
Question: Has the death of Monkee lead singer Davy Jones at age 66 of a heart attack Thursday made you think about your own heart health?
---
---