Thu., March 1, 2012, 11:07 a.m.
Judge Admits Anti-Obama Email
Montana's chief federal judge apologized Wednesday for forwarding an email that contained a joke involving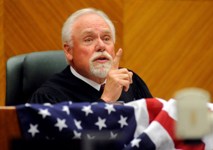 bestiality and President Barack Obama's mother, saying he did so because he dislikes the president and not because he's racist. Judge Richard Cebull, of Billings, forwarded the email from his chambers to six other people on Feb. 20, the Great Falls Tribune reported. Cebull said that his brother sent him the email, which he forwarded to six "old buddies" and acquaintances. The text of the forwarded email says: "Normally I don't send or forward a lot of these, but even by my standards, it was a bit touching. I want all of my friends to feel what I felt when I read this. Hope it touches your heart like it did mine/AP. More here. (AP file photo of Judge Cebull making speech during Naturalization proceedings last summer)
Question: What do you do when you receive ujsolicited emails from friends or acquaintances containing racial, sexual, or other inappropriate content?
---
---