Fri., March 2, 2012, 1:41 p.m.
Assessor Cuts Staff By 8%
In a news release today, Kootenai County Assessor Mike McDowell announced he was reducing his staff by 5 workers -- or 8 percent -- by attrition. McDowell writes: "Our management team has diligently and creatively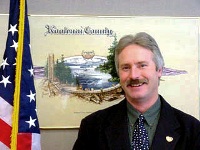 worked together to streamline procedures, maximize the use of new technology, and share positions between departments during peak demand periods in order to continue providing our citizens with the high quality of customer service that they have to expect from our offices." During the last year, the Assessor's Office has lost seven appraisers and other key staff to competing employers such as the state of Idaho and Spokane County. McDowell said he has realigned the office to absorb some of those losses. Full news release here. (Kootenai County photo of Assessor Mike McDowell)
Question: Do you work in an office that's been downsized?
---
---