Fri., March 2, 2012, 3:12 p.m.
Bodman Files As An Independent
Former Post Falls councilman Joe Bodman has filed to run for Kootenai County sheriff as an Independent.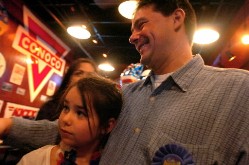 Bodman is a former three-term council member who lost to Betty Henderson in 2009. Bodman, a former Kootenai County deputy, unsuccessfully challenged Sheriff Rocky Watson in the 2008 Republican primary for sheriff. Three Republicans have already filed for the office -- Ben Wolfinger, Keith Hutcheson and John Green. Two other Republicans attended a forum for sheriff's candidates last month -- Bob Foster and Adam Johnson. On Thursday, Prosecutor Barry McHugh issued an opinion that Johnson isn't eligible to file for sheriff because he has pleaded guilty for felony heroin possession. County Clerk Cliff Hayes said Johnson will be told he's ineligible to run for sheriff if he tries to file his candidacy papers. (2005 Jesse Tinsley SR file photo of Joe Bodman waiting for results in 2005 Post Falls City Council election)
Question: Could this be the year an Independent has a chance to win the sheriff's race?
---
---