Fri., March 2, 2012, 8:23 a.m.
Harris: Measuring Snowfall
I've had many Press subscribers ask me recently to explain just how I measure the snowfall at my location on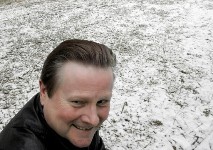 Player Drive in the northwestern corner of Coeur d'Alene. They also ask me why I seem to gauge more snow during a particular period or season than in their parts of town. First, we are at an elevation on Player Drive that's nearly 100 feet higher than down near Lake Coeur d'Alene at the resort. The lake likewise tends to keep surrounding areas a bit warmer during the winter months, hence less snow. The second reason that we frequently see more of the white stuff in my part of town is that are are in a 'snowbelt corridor' that runs from just north of I-90 northward through Rathdrum and Twin Lakes/Cliff Harris, Coeur d'Alene Press. More here. (2007 Kathy Plonka SR file photo of Cliff Harris)
Question: How would you rate Winter 2011-12 as compared to other Inland Northwest winters?
---
---