FRIDAY, MARCH 2, 2012, 10:55 A.M.
KKK Group Wants Montana Homeland
Montana state legislators this week received a newsletter from a white supremacist group tied to the Ku Klux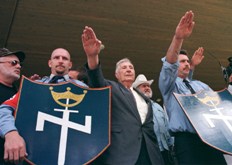 Klan that wants to turn the Northwest into "the future homeland of the white race from people all over the world." The newsletter came from the Northwest Knights, whose national headquarters is based in Harrison, Ark., and whose website, www.KKK.com, is that of the Ku Klux Klan. It mentions that the Montana First Committee was formed in 2011 as an umbrella group for "white racialists in Montana, who want to create a white homeland in the Northwest." The Northwest Knights, the newsletter said, is a "fraternal organization that is dedicated towards white civil rights in the Northwest"/Charles S. Johnson, Missoulian State Bureau. More here. (AP photo of late Aryan Nations leader Richard Butler during 1999 rally in Coeur d'Alene)
Question: Sound familiar?
---
---