Mon., March 5, 2012, 1:36 p.m.
New Gen Takes Over Local Mortuary
Over the course of 45 years in business, Dale Coffelt has grown close to the community he serves. He has seen children grow into grandparents and watched as one generation gave way to the next. Perhaps more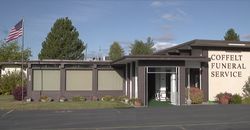 than anyone, he has been there when community members passed away, comforting families, making a hard and heart-breaking situation, in his words, "softer." Coffelt Funeral Services was established in 1970 after he took over the operation of the business and the associated Pinecrest Cemetery from Bud Moon, whose father started Moon Funeral Services back in 1922. Dale still remembers the day he entered the building at the corner of Division and Pine, not because it was particularly notable, but because it was the first entry in what would become a long and illustrious local career/David Gunter, Bonner County Bee. More here. (Photo from Coffelt Funeral Service Web site)
Question: The article goes on to say how Dale Coffelt is passing down his funeral service to his grandson. I tip my hat to families like the Coffelts who serve their communities in such a way. But I can't imagine why anyone would want to be in the funeral business. Is Digger out there?
---
---