Tue., March 6, 2012, 5:17 p.m.
Early Going: Newt Wins 1, Mitt 3
As results trickle in for Super Tuesday's nominating contests, CBS News projects presidential candidate Newt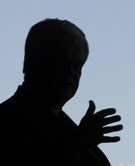 Gingrich (silhouetted in AP photo today in Alabama) will win the Republican primary in his home state of Georgia, clinching his first primary victory since South Carolina's January 21 primary contest. CBS News also projects Mitt Romney will win in Virginia, Massachusetts and Vermont. Polls closed at 7:30 in Ohio. Based on exit polls, CBS News estimates a close race between Romney and Santorum. With polls closed in Tennessee, CBS News projects former Pennsylvania Senator Rick Santorum has a small lead, with Romney and Gingrich trailing behind. In Oklahoma, CBS News projects Santorum is leading/CBS News. More here.
Question: Who will be the biggest winner/loser when the night is over?
---
---