Tue., March 6, 2012, 11:17 a.m.
Johnson: Why Can't I Run For Sheriff
Kootenai County sheriff hopeful Adam Johnson is speaking out now after Prosecutor Barry McHugh said he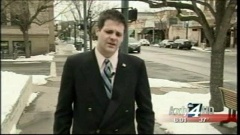 was ineligible to run for office. Johnson, 27, plans on filing as a candidate for sheriff. In the last few years he's had several run-ins with the law. In 2009 he shot and wounded two people in Coeur d'Alene. Those charges were later dropped. Then in this last January he pled guilty to possessing heroin and is currently on probation.
As for what McHugh said about him not being able to run? Johnson says it's his opinion and he intends to try and file as a candidate for Kootenai County sheriff/Anusha Roy, KXLY. More here. (KXLY photo of Adam Johnson)
Question: Should Adam Johnson be allowed to run for Kootenai County sheriff?
---
---