Tue., March 6, 2012, 10:06 a.m.
Task Force Backs Anti-Bullying Bill
The Kootenai County Task Force on Human Relations' Board of Directors announced today their full support of Idaho SB 1358 known as the anti-bullying bill to protect Idaho's school children. The Board indicated that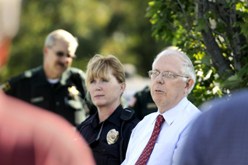 although it is already against Idaho law to bully another student in Idaho schools, this bill both expands and covers areas presently not addressed in the current legislation. Senate Bill 1358 requires every school district to have its own anti-bullying policy, provides for teacher training, makes sure teachers and school staff know that they are expected to intervene and keep kids safe when they see bullying occur, and very importantly the bill sets penalties for cyberbullying. More here. (2009 SR file photo of task force leaders Christie Wood & Tony Stewart at a human-rights event)
Question: Can you think of any legislator who would oppose this common-sense bill?
---
---