Wed., March 7, 2012, 8:14 a.m.
Kootenai County Backs Santorum
It took until after midnight, but the wait was worth it for Rick Santorum (shown in AP photo Tuesday in Ohio) supporters. Following four rounds of voting, Santorum was the choice of Kootenai County Republicans in Idaho's first presidential caucus. The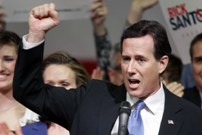 Pennsylvanian received 674 votes in the final round of voting, while Ron Paul received 496 votes countywide, Republican Party officials announced early Wednesday. Mitt Romney, who earned the statewide caucus victory, was eliminated in the third round of voting, while Newt Gingrich was eliminated in the second round. The four rounds of voting, scheduled to begin at 7 p.m., did not end until after midnight, as those who waited more than five hours cast their final ballot at The Coeur d'Alene Resort and nine other caucus sites around the county/Joe Donofrio, Coeur d'Alene Press. More here.
Question: What does the selection of Rick Santorum and Ron Paul as the top two choices tell us about Kootenai County's Republicans?
---
---