WEDNESDAY, MARCH 7, 2012, 11:29 A.M.
NYT: Openly Gay Idaho Solon Quitting
Here, the lawmaker who has spent eight years working for what might seem far less controversial goals is the only openly gay member of the Idaho Legislature. Now with the session well under way and a gay rights bill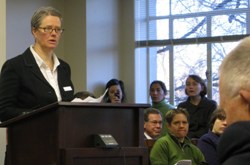 again showing little sign of getting a hearing, the senator who has been its champion, Nicole LeFavour, plans to become the former only openly gay lawmaker in the Idaho Legislature. Ms. LeFavour, 48, has decided not to seek re-election, for what she says is a very painful reason: she has had enough and she expects things to only get harder. "My partner Carol has put up with a lot of stress and has stood by me as I dealt with a lot of loss," Ms. LeFavour wrote in a blog post last month. "She's so smart and keeps me laughing through the hardest times but you can only ask that of someone for so long"/William Yardley, New York Times. More here. (Betsy Russell 2009 SR file photo: Nicole LeFavour asks a Senate committee to introduce her bill to expand state human rights protection to gays but is rejected)
Question: What will be state Sen. Nicole LeFavour's legacy?
---
---