Wed., March 7, 2012, 1:10 p.m.
Outcome Upsets Local Ron Pauler
On his Political Theater blog, Libertarian commenter Lew Rockwell quotes a friend who attended the Idaho GOP caucus at the Coeur d'Alene Resort last night: "As we stood watching the vote counting, a priest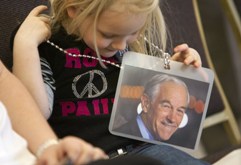 explained to me that RP was the only true pro-life candidate. He also said he hoped that Paul would run third-party. After this mess, I have to agree. I told one old man, a local state representative who confessed to voting for GW Bush twice before coming to his senses and supporting RP, that I wouldn't cross the street for any of the candidates, yet here I was near midnight away from my warm bed and my family to support Ron Paul. He ruefully said in reply, "Well, I'll have to do more than cross the street for one of them, since I can't vote for Obama." I think this sums up the vice that the powers that be have us in. As you and your writers have been saying for years, the establishment puts up two puppets, and we get to fight each other over which one to elect. I won't play that game again. I'll write in RP if I have to, or vote straight Constitution Party." More here. (Katherine Jones' AP/Statesman photo: Sydney Walker, 4, holds a picture of Ron Paul, who spoke in Nampa Tuesday)
Question: What will become of Ron Paul voters if this continues to play out as it now appears to be?
---
---