MONDAY, MARCH 12, 2012, 3:34 P.M.
Caution: Red Meat Is Health Hazard
Want to live longer? Trade some of the red meat in your diet for fish, nuts, whole grains, and other healthier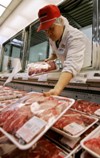 protein sources, Harvard researchers say. That's the conclusion of a new study, published this week in the Archives of Internal Medicine, that found that the risk of dying at an early age -- from heart disease, cancer, or any other cause—rises in step with red-meat consumption. Eating too much red meat, which is high in saturated fat and cholesterol, has long been seen as unhealthy, especially for the heart. The new study, however, is the first to estimate the effect of swapping out red meat on a person's lifespan/Health.com. More here. (AP file photo for illustration purposes)
DFO: Why do I think Stickman is going to weigh in on this?
Question: Which your favorite cut of red meat?
---
---