Tue., March 13, 2012, 1:07 p.m.
Idaho Declares Telegraph Obsolete
After a unanimous House vote, Gov. C.L. "Butch" Otter's pen stroke is all that stands between finally declaring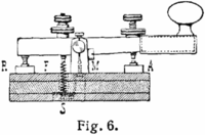 the telegraph obsolete in Idaho. Tuesday's 63-0 vote is part of the Idaho Supreme Court's annual effort to excise archaic language from state code. Back when trains dominated cross-country passenger travel, Idaho required stations to communicate late arrivals from waiting room to waiting room via telegraph. Failure merited a $100 misdemeanor fine. But even in Idaho, hardly anybody uses the telegraph these days/AP. More here. (Wikipedia: telegraph key)
Question: Can you think of other devices that the Idaho Legislature can declare obsolete?
---
---