Wed., March 14, 2012, 5:26 p.m.
Bonner Co Wants Caribou De-Listed
Bonner County is contracting with the Pacific Legal Foundation to petition the U.S. Fish & Wildlife Service to remove the southern Selkirk Mountain woodland caribou from the federal endangered species list. County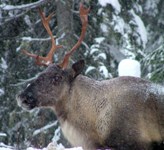 commissioners voted unanimously on Tuesday to contribute up to $10,000 toward the effort. "Getting into contractual agreements with a not-to-exceed amount always makes the most sense," said Commissioner Lewie Rich. A memorandum of understanding approved by the board also allows the public to contribute financially to the de-listing move/Keith Kinnaird, Bonner County Bee. More here. (AP/British Columbia Forest Service file photo: A South Selkirk caribou moving with its herd north through the Selkirk Mountains about three miles north of the U.S.border)
Question: Should woodland caribou be de-listed?
---
---