Wed., March 14, 2012, 1:16 p.m.
News Quiz Offers NCAA Tickets
Update: 2 HBO followers are among Top 25 in this week's contest -- SFredrickson & newby Lolo (deadlline is Thursday evening)
A heads up to all of our hoops and outdoors enthusiasts: This week's news quiz is offering two great prizes -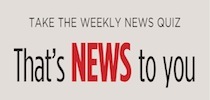 1) Two tickets to the first two rounds of the NCAA women's basketball tournament in Spokane, and 2) two tickets to the Bighorn Outdoor Adventure Show. Simply take the quiz, and you're eligible to win Friday's drawings. Meanwhile, the overall champ wins a $50 gift card to the Davenport hotel. You can find this week's contest in the righthand rail "That's News for you." Or you can click on this link here.
---
---