Wed., March 14, 2012, 8:22 a.m.
Santorum Claims 2 Southern Wins
Rick Santorum took his re-energized Republican presidential campaign to Puerto Rico Wednesday after key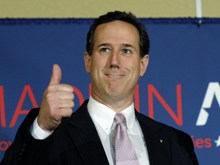 primary victories in the South that raised questions about conservative rival Newt Gingrich's viability as a candidate and portended a long battle with front-runner Mitt Romney. Romney, rejected again by Southern conservatives in the Tuesday primaries in Mississippi and Alabama, won caucuses in Hawaii and American Samoa to claim about a third of the total delegates available and maintain his lead. However, Santorum's twin primary triumphs -- while narrow -- reframed the GOP race as a one-on-one battle between the socially conservative former Pennsylvania senator and the more moderate Romney, with Gingrich's chances fading fast/CNN Politics. More here. (AP photo: Rick Santorum gives a thumbs up at his election night party in Lafayette, Ala.)
Question: Time for Paul & Gingrich to step to the sidelines?
---
---